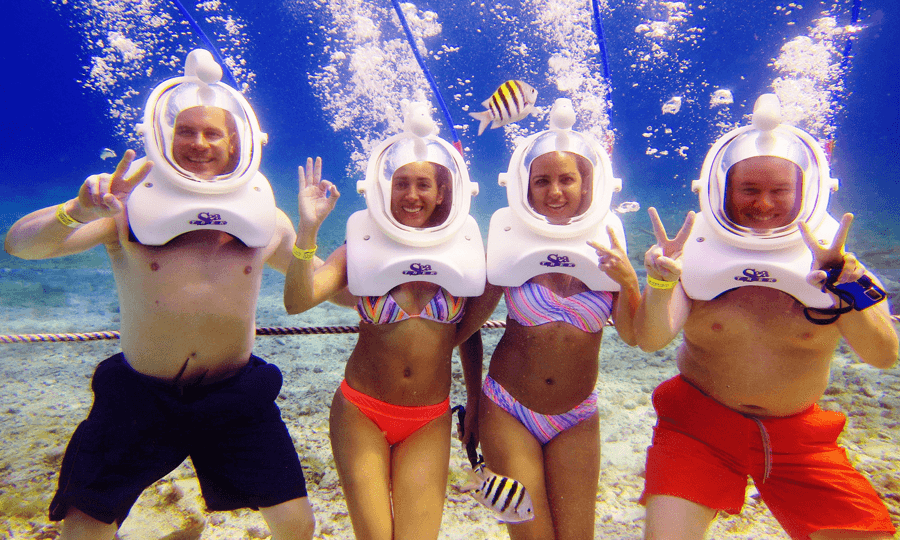 A typical
Sea

TREK

tour consists of the following:
Qualify for the tour:

At least 8 years of age or older
In good health or cleared by a physician to participate (you are required to complete and sign a brief Participant Record & Liability Release Form)
Be comfortable in the water*

* SeaTREK requires no swimming, previous experience, or specialized skills, guests simply need to be comfortable in the water.

Orientation & Safety Briefing:

Listen, and participate in a 10-minute orientation and safety briefing
Your Guide will review the

Sea

TREK helmet, ladder descent, ear equalization techniques, proper breathing, hand signals for underwater communication, and more

Water Entry:

You will descend the ladder until the water is at shoulder level. A surface attendant will then lower the helmet onto your shoulders; you will continue to descend the ladder, step-by-step, with the aid of the safety diver or

Sea

TREK Guide.
Your

Sea

TREK helmet receives a continuous supply of air (3x more than what you normally breathe), so your entire head remains dry, you can wear glasses or prescription contacts, and you're able to breathe normally through your nose (no mouthpiece)
Every couple steps, you will need to equalize the pressure in your ears (similar to flying in an airplane or swimming in a pool). The helmet is designed to allow you to reach your hand up inside the helmet, pinch your nose and gently blow to easily equalize your ears. If for some reason you cannot properly equalize, you can go back up the ladder several steps, and try again

Have Fun!

Once at the bottom of the ladder, you will join the rest of your group in a single file line. The tour begins once the entire group is on the sea floor
Your

Sea

TREK Guide, and safety divers will be with you for the entire tour. You'll walk underwater along a preset

Sea

TREK trail for a once-in-a-lifetime experience
During the tour, fish of all shapes and colors, and local marine life will surround you. Underwater cameras are allowed on most tours; your

Sea

TREK tour may also include a professional photographer / videographer
Underwater tour duration is approximately 25-minutes

Post-tour you may have the opportunity to purchase photos, videos and branded memorabilia. We also encourage you to share your experience with us; don't forget to use #SeaTREK!