The simplistic design of the SeaTREK helmet diving equipment enables practically anyone, even non-swimmers and non-divers, to comfortably walk underwater. SeaTREK is available in three equipment options:
Sea

TREK EP Air Center

Sea

TREK POD
Self-Contained Backpack
The most widely used system is the SeaTREK EP Air Center, followed by the POD and Self-Contained Backpack systems.
---
Sea

TREK EP Air Center
The Electrically Powered (EP) Air Center features a powerful, efficient, and quiet air compressor (75 db at 3 feet distance) that provides a constant supply of cooled, dried and filtered air. The system is ideal for high volume operations, as there is no need to refill or swap out traditional scuba air cylinders, minimizing turnaround time between tours. The EP Air Center is available in various sizes and can provide air for any number of helmets from 5 to 45+. This system also features redundant levels of Emergency Air Supply (EAS), including an audible and visual alarm with automatically-activated reserve air, in the event of a power failure or low-pressure situation. Other components of the EP Air Center system include: a remote console (for monitoring air pressure at the water entry point), floating manifold (for distributing calibrated air flow to the helmets), hose reel (for organizing the main air line), hose organizer (for managing the individual helmet air lines), and optional Pneumatic Lift System (for placing and removing the helmets on and off guests' shoulders).
---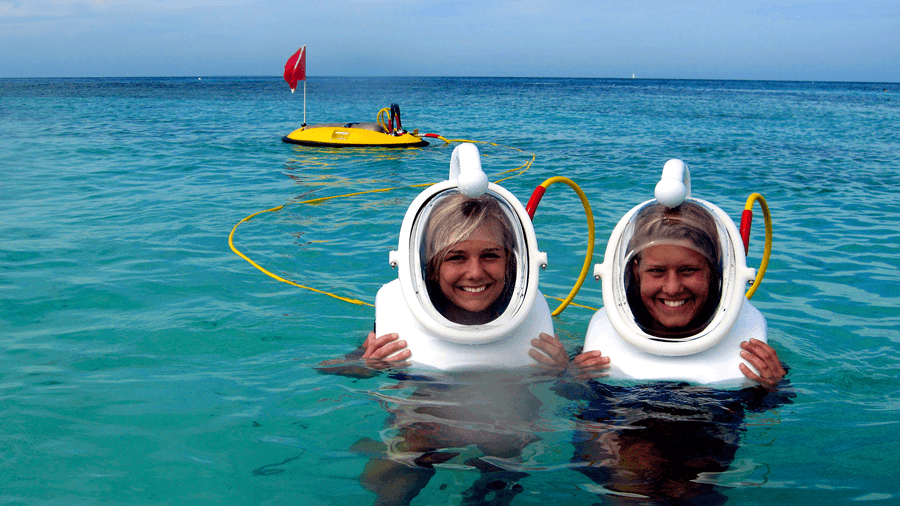 Sea

TREK POD
The SeaTREK POD system is comprised of a "POD" (yellow float) that supports two air cylinders on the surface of the water, and provides air for a maximum of two SeaTREK helmets. This system is ideal for smaller volume operations. The equipment is extremely portable and can be easily operated from a beach, boat or platform. Operators can start off small, with one to two units, and add more as business grows and demand increases.
---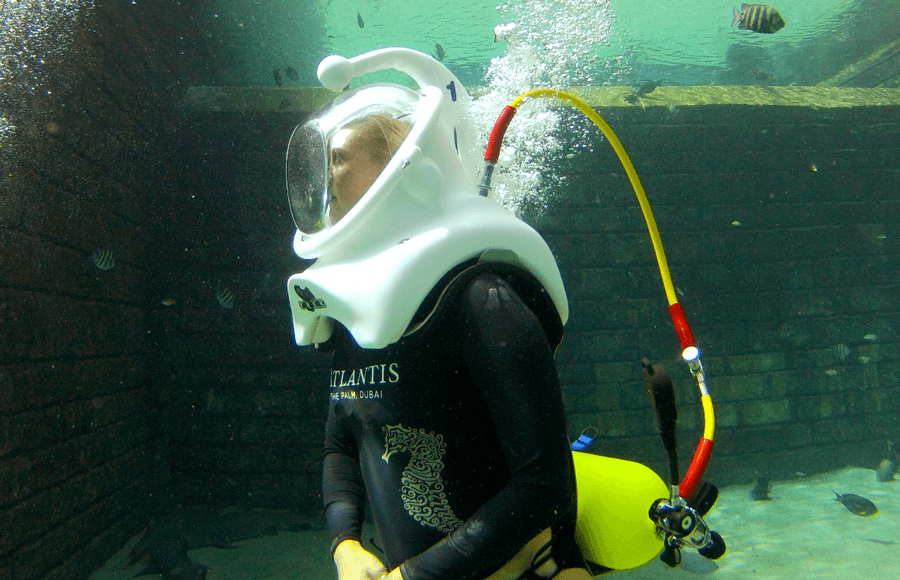 Self-Contained Backpack System
The Self-Contained Backpack system utilizes a stainless steel backpack with an integrated air supply (an air cylinder). A continuous flow of air is supplied to each helmet, without air lines running to the surface. This system is designed for use in environments such as aquariums, where overhangs, pillars or theming may obstruct air lines from running to the surface. The Self-Contained Backpack is highly portable and is best operated from an aquarium deck, boat or platform with a ladder entry.
---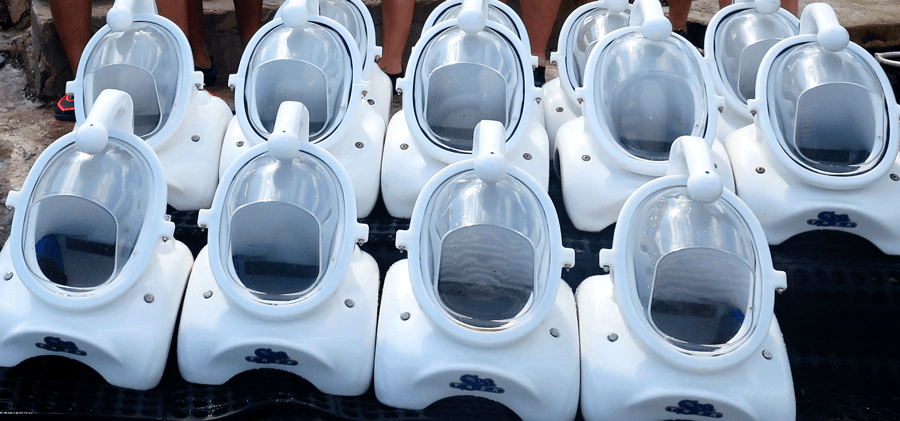 Sea TREK Helmets
All SeaTREK diving helmets are proudly manufactured in the United States. The SeaTREK helmet features:
A durable, polycarbonate, injection molded construction
Reliable helmet lens seal technology
Tri-view acrylic lens for a clean, undistorted view through the flat front, left and right panels
Safety handle at the back of the helmet for staff controlled ascents/descents
Soft, moldable shoulder pads that can be adjusted to fit guests' shoulders
A continuous supply of clean, dry, cool air that gently blows against the front lens panel and also onto the guests' faces. The directional airflow keeps the lens from fogging and provides a comfortable breathing environment
Integrated weights that provide stability for walking on the ocean floor
An optional lift buoy that relieves 5 lbs of the 15 lbs of helmet weight felt underwater
To learn more about acquiring SeaTREK, visit the Purchase a System or License a System pages.
Production lead-time: 2-10 weeks (depending on the system) Installation and training: 4-10 days (depending on the system) *The SeaTREK License program is only available in select locations. Please contact us for more information.