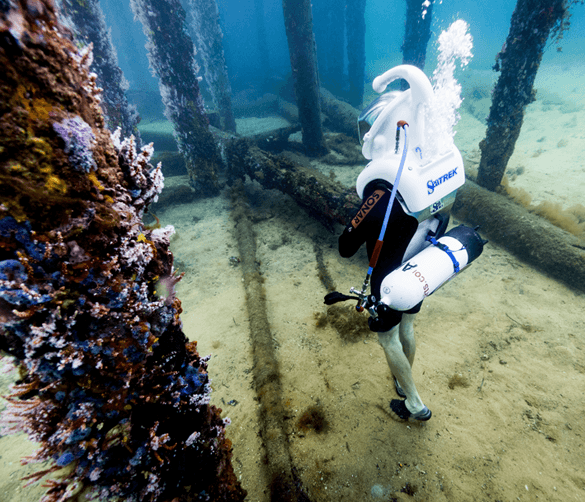 Sea

TREK

is a guided underwater walking tour, also called helmet diving, designed for non-swimmers and non-dviers. Participants wear a weighted dive helmet and walk underwater along a predetermined

path.
What experience is required to try SeaTREK®?
No scuba certification, no previous diving experience or even swimming experience is required.

Sea

TREK is as easy as walking and breathing.
How long is the SeaTREK tour?
The entire

Sea

TREK underwater walking tour is conducted in less than an hour.

Sea

TREK was developed for those who would like to comfortably experience breathing and exploring underwater without the investment of precious vacation time.
The tour includes the following:

Pre-dive Presentation / Orientation: Approximately 5–7 minutes
Water Entry / Helmet Placement (for entire tour group): Approximately 5 minutes
Underwater Exploring: Approximately 20 minutes
Debriefing: Approximately 10 minutes
Total Time: Less than 1 hour
How do guests breathe underwater and is it difficult?
Guests breathe normally through their nose and/or mouth. There are no mouthpieces required. Air is continuously flowing through guests' helmets at a rate that is 3x more air than what is typically needed to breathe normally.
How deep are SeaTREK  underwater walking tours?
The depth varies from location to location. The deepest SeaTREK location operates at 30 feet / 10 meters.
What if guests are uncomfortable descending the ladder?
Our primary goal is to see that our participants have a safe and entertaining experience. Participants can enter the water at their own pace, or opt out at any time.
Can a guest participate if he or she has a pre-existing medical condition?
The severity of medical conditions can vary, therefore we require that participants seek the clearance of a physician, or can affirm that they have discussed participation in a dive/snorkel program with their physician, and have been cleared. If a guest has a medical question or concern prior to participating, we offer digital

Sea

TREK Participant Record & Liability Release Forms for review.
If a guest has a disability, can he or she still experience SeaTREK?
Disabilities vary, we recommend that guests contact their desired

Sea

TREK destination or S

ub Sea Systems

, Inc. for special requests. It is also highly recommended that participants discuss the activity with their physician to seek prior approval.
Where can I try SeaTREK?
How do I become a Guide?
How much are SeaTREK tours?
Sea

TREK tour prices are determined by the operation location. For specific prices, visit our "Where To SeaTREK" page, select the location you're interested in visiting and you'll find contact information for that operation.
How much does a diving helmet weigh?
The

Sea

TREK helmet weighs approximately 70 lbs (32 Kgs) above water, while beneath the surface the weight is about 15 lbs (7 Kgs).
Can I wear glasses or contact lenses?
Yes, you can wear prescription glasses, sunglasses, and contact lenses during the

Sea

TREK tour. You remain completely dry from the shoulders up.
Is helmet diving safe?
Sea

TREK has been in business since 1999, and over 3 million guests have participated in a guided underwater TREK. Tours are conducted and supervised by certified and insured

Sea

TREK Guides.

Sea

TREK helmet diving equipment is made in the USA of the highest quality components. Locations listed on the

Sea

TREK website are the only authorized operators of the

Sea

TREK system.
Are there any sharks?
We cannot guarantee that there are no sharks in the ocean. We can tell you, however, is that the chance of seeing a shark is very rare.
How much does a diving helmet cost?
We do not sell individual helmets, rather we sell complete systems. The price of a

Sea

TREK system varies– dependent on the selected system and number of helmets. Please contact us to learn more.  
Why can't I buy a diving helmet for personal use?
Sea

TREK is a system comprised of not only diving helmets, but of an air supply system as well. The system was designed for the tourism industry and requires professional installation, on-site training and certification, maintenance training, and adherence to standard operating procedures.  
 
Ask Trekker! Have a question? Fill out the form below and we'll get back to you with an answer.